By Andrea Lozoya
Whether you enjoy working on a favorite creative hobby, making handmade arts and crafts, or doing a variety of DIY projects in your free time, it's important to have a dedicated workspace in your home where you can focus. Designing your own workshop station will make it easy to keep everything together in one place, and it provides you with a dedicated area to complete all sorts of projects while keeping the rest of your house uncluttered. When you plan your workshop station setup, there are several important things to consider, depending on the type of work you plan to do. Let's take a closer look at some inspirational ideas and tips that will help you create the perfect DIY workshop so you can fulfill your creative needs.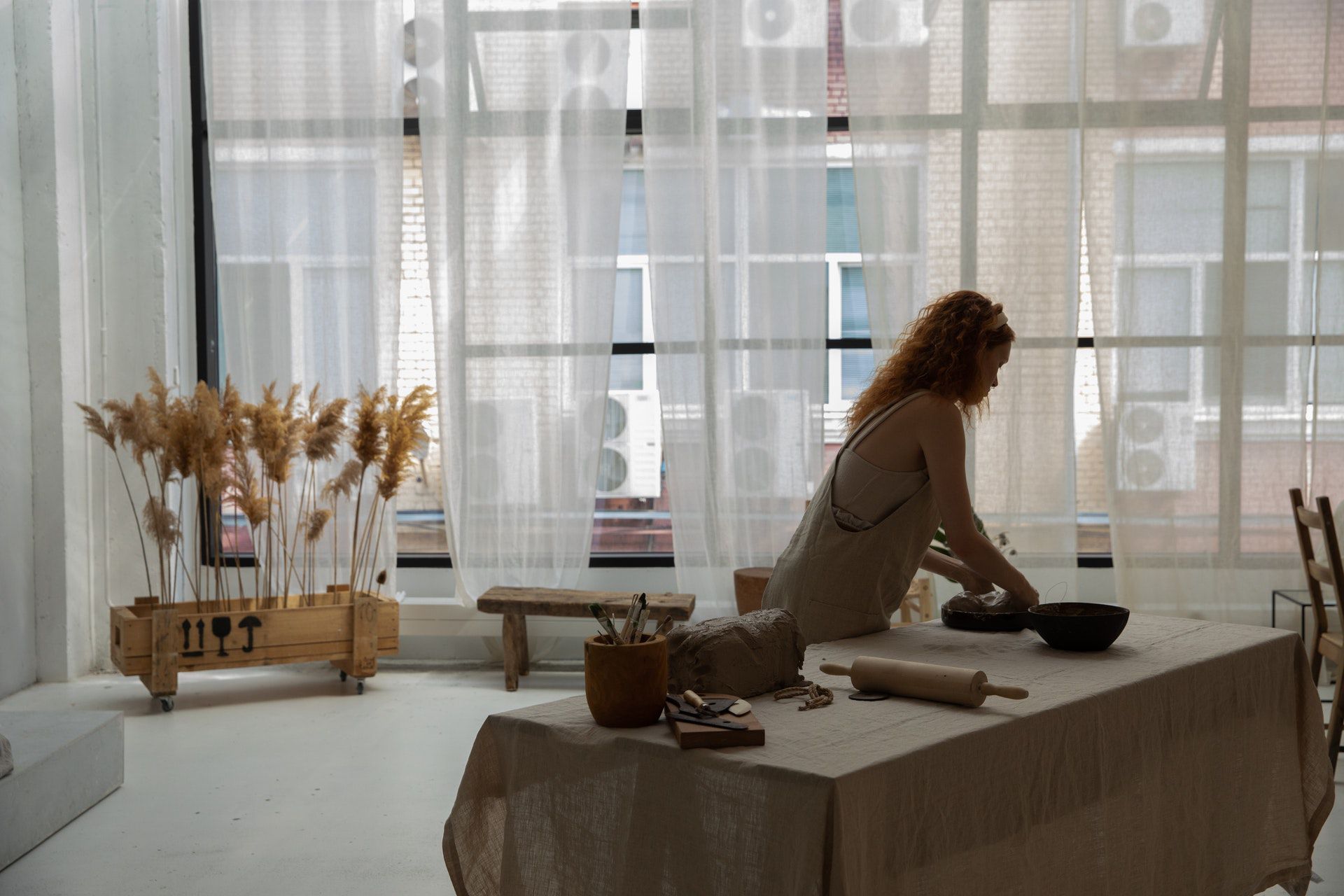 Determine the Size and Location of Your Workshop
The size of your new workshop area will depend on how much space you need and how much you have available. Here are some tips to help you determine just how much room you'll need.
If you live in a single-family home, you may have more space for your workshop station. You may even be able to build or renovate a separate outbuilding in the backyard, such as a shed or small garage.

Living in a condo or apartment means you likely have less room to work. However, you can make a portable, smaller workstation that's about the size of a desk.

Think vertically if you're short on space. Storing items on the wall will give you more floor space to work with.

Use corners wisely, and create a comfortable workstation nook with shelving or a small corner-mounted table.
Where you choose to set up shop is just as important as the size. Here are a few helpful tips to make it easier for you to pick a location at home.
If you're doing woodworking or using power tools of any kind, make sure that there are enough power outlets nearby.

Ample lighting is also essential, so check to ensure that you're working in an area with plenty of windows or that you have enough light fixtures to help you see clearly.

Choose a quiet part of your home, especially if you're planning to use loud power tools like a circular saw or if you plan to do a lot of hammering.

Some great options for a separate workshop include the garage, a room over the garage, a large extra walk-in closet, the laundry room, or even the basement or attic if you have space.

Consider building a brand-new workstation if you have enough room in your backyard. A nice shed with a few windows is a great option that will give you a separate place to do anything from DIY wood projects to artwork and more.
What Kinds of DIY Work or Crafts Will You Do?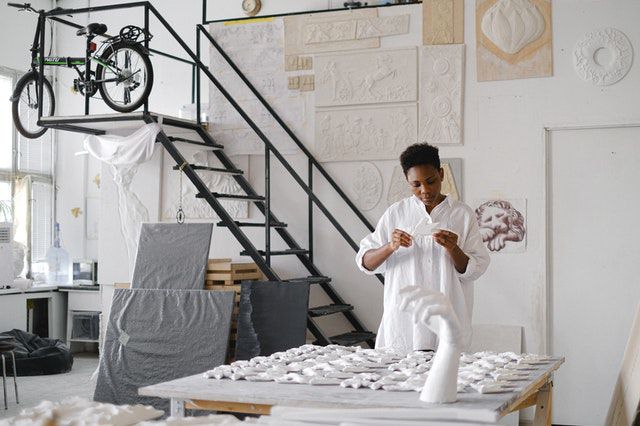 Your setup, size, and storage will depend on the type of projects you plan to work on. These tips will help you configure the best space for your needs.
Art and painting. A nice studio with lots of natural light is ideal if you plan to make custom art or work on paintings. Make sure you have plenty of storage so you can keep brushes, paints, canvases, Portable Hobby Workstations, and other art supplies together and organized.
Woodwork. You'll need a larger space if you plan to do some woodworking. Check to make sure you have enough outlets for power tools, and ideally, this space should be completely separated from the rest of the home due to noise and sawdust. Consider ventilation as well if you'll be using adhesives, paints, stains, or other toxic brews.
Ceramics and pottery. Pottery and ceramics can be messy, so choose a roomy area where you can work on your throw and fire up your kiln. Concrete flooring is ideal for a pottery studio.
Sewing. From fabric and thread to tools and accessories, make sure you set up a workstation that has enough storage for all of your sewing stuff. You'll need a power source for your sewing machine and iron. And, of course, a roomy work table is also a must-have for your sewing studio.
Resin. Using resin to create things like jewelry or art is quickly becoming a popular hobby. Keep in mind that working with resin involves various chemical compounds, so choosing a space with adequate ventilation and away from kids and pets is extremely important.
Glasswork. You'll need a large space away from your home if you're planning to blow glass yourself. Glasswork involves a hot furnace, which can be expensive to set up yourself. If you're just working with pieces of glass to make jewelry, you can choose a craft room or a space in the garage to work.
Supplies for Your New Workshop or Craft station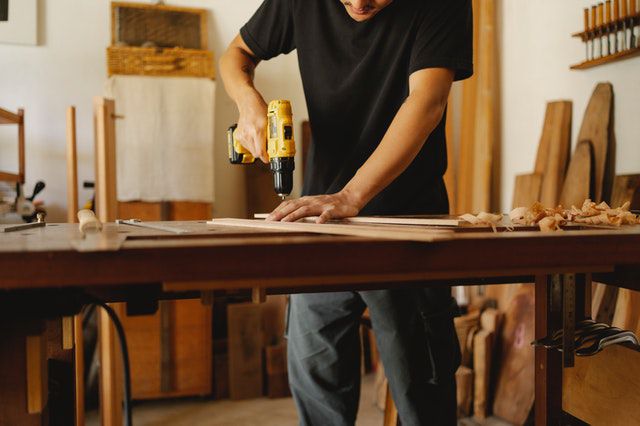 The tools and supplies you need will depend on what you're doing. Here are a few important items that you should include when you set up your new workshop station.
Power drill. Every good DIYer needs a quality power drill. Make sure you have plenty of drill bits to go along with it and that your drill has enough voltage to drill into thicker wood or metal. A cordless drill is great for smaller household projects.
Hand and circular saw. A hand saw doesn't require a power source, while a circular saw will. Both types of saws are extremely useful when you need to cut wood or other materials. Always use these tools with extreme caution, and wear safety glasses whenever you operate them.
Level and tape measure. Hanging items or building something requires it to be plumb and level. Make sure you have a level to ensure accuracy. Use a tape measure so you can determine the length or width of various items before you cut or build.
Hammer, screwdriver, and pliers. These three common tools are essential for any workshop. Choose hammers and pliers in different sizes depending on your needs. You should at least have one Philips head and one flat-head screwdriver, too.
Sewing supplies. Stock your sewing room with the important essentials like a quality sewing machine, plenty of different-colored threads, lots of buttons, needles, and a nice variety of fabrics.
Art. If you enjoy painting, make sure you have plenty of different paints, brushes, and paper or canvas to work on. A nice, sturdy easel is also a great choice if you prefer to stand up while painting, or if you're working on a larger piece.
How to keep your creative corner organized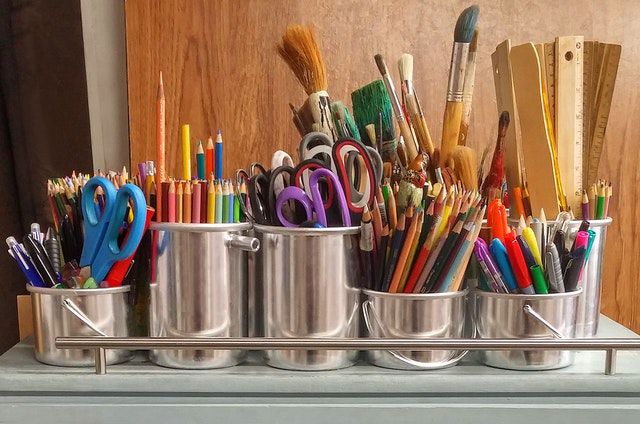 Here are some tips to help you keep your new creative workspace free of clutter and organized.
Mount a pegboard on the wall, or use a magnetic board attached to a piece of wood to hang tools. A nice toolbox with drawers also comes in quite handy.

Shelving and drawers are perfect for organizing virtually anything. Clear plastic containers are great for storing small craft items, buttons, and nails or screws. Use wall storage to get more floor space by installing some shelving up toward the ceiling so you have more room to work in.

A rolling cart is perfect for small crafting items like glue, brushes, paints, and colored pencils. It's also a good choice for small sewing accessories or for brads, nails, screws, and small hand tools.

Keep a special place for notes if you need to keep track of your projects. A nice whiteboard or blackboard is a good option, or you can use a corkboard and pin notes to it or hang a clipboard to the wall with a small notebook where you can write things down.
First-Time Project Tips and Ideas
Here are a few fun and easy ideas to help you get started if you're new to doing creative projects.
DIY marble mugs. This is a fun project the whole family will enjoy, and it's easy to make using just a few simple items. All you need is a few white mugs, some different colors of nail polish, a pan filled with water, and toothpicks. Seal your new mugs with clear ModgePodge when you're done.
Throw pillows. Sewing custom throw pillows is a great way to learn how to sew or practice using a new sewing machine. You can make pillows from virtually any fabric you have lying around, and they'll make your bedroom or living room much cozier.
Wood projects. Build a custom wood toy chest for your kids, or try a homemade outdoor bench or flower box if you enjoy gardening. All of these are a good starting point if you're planning to learn woodworking.
Painting. Get the whole household together, and paint as a family. You can also paint your family portraits or try your hand at painting a landscape in the backyard. Get creative and make your custom abstract art for a fun way to experiment with different brushes and paint colors.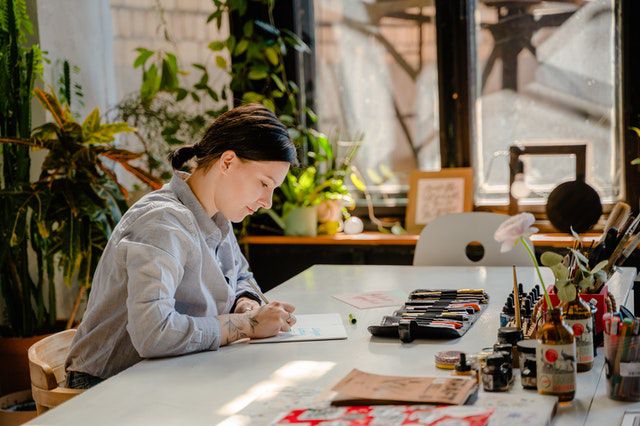 Once you have a custom workshop set up, the variety of projects you can work on is endless. Eventually, you'll become obsessed with making a variety of DIY projects, from woodworking and jewelry making to painting and sewing. Your new workstation will probably become the entire family's favorite corner of the house. Remember to try your hand at a few fun DIY projects that the kids and the whole family can enjoy working together for quality bonding time.