The Sub-Continent has a proud tradition of handicrafts. Particular among these is marble and onyx craftwork. Pakistan is especially recognized for the quality and quantity of its marble and onyx products. Marble has been utilized in the creation of the most well known and magnificent buildings across the subcontinent to enhance their beauty and durability. The Taj Mahal of Agra has a stunning façade made of marble which was brought in from Ghazni in Afghanistan and Mardan in Pakistan. The magnificent Badshahi Mosque is also designed with marble, or Sang-e-marmar, as it is commonly called. Artisans use pieces of marble and transform them into truly breathtaking samples of art. Marble carvings are visible in much of the architecture across the country. Decorative items made of marble grace many homes. Marble utensils are also commonly used. Onyx is used to make tiles, mosaics, sinks, slabs, vanities, and many other products in subtle shades of dark green, light green, white, red, brown, and gold. Onyx bangles are also popular among local women.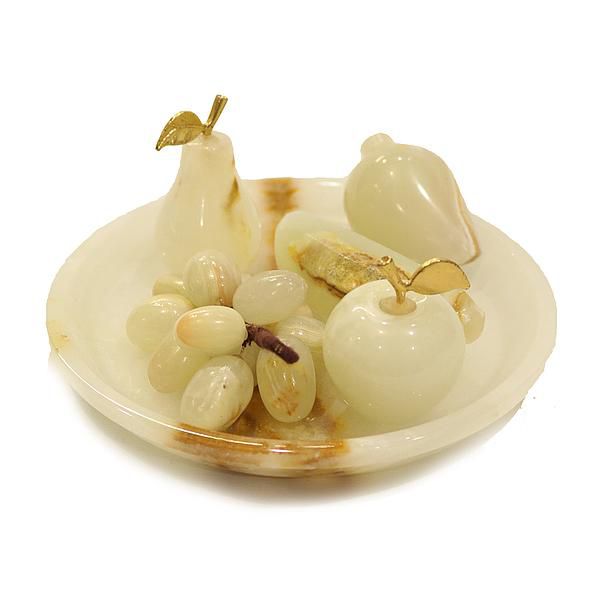 Onyx Fruit Tray
Pakistan is well known for its deposits of export quality marble and onyx in a multitude of hues and patterns. It is the sixth-largest extractor of marble in the world, which is then exported or used for the craftsmanship of excellent products. Marble and onyx reserves have been found in KPK, Balochistan, and Punjab, which amount to around three hundred billion tones, according to the TDAP. The largest reserves of onyx are in Chagai in Balochistan, which also has sixty small marble processing units. After extraction, marble and onyx go through twenty processes to make them suitable for further work to be done on them. The production of marble products experienced a boom after 1994 due to a number of reasons. Italy signed a deal with Pakistan, providing its machines and expertise for marble polishing techniques. The Stone Strategy Working Group was developed by the USAID to improve the marble and granite industry. The Government of Pakistan also abolished import duties on quarrying and processing to facilitate the growth of this industry.
However, this craft has been facing serious problems in recent years due to lack of technical facilities, shortage of water, improper sewerage systems, power breakdowns, and an imperfect system of law and order. This makes it difficult to extract these materials and craftsmen have a hard time obtaining them. There are many undeveloped quarries, which could be properly assessed and made use of.