Truck Art is perhaps the most widely known and mesmerizing regional art of Pakistan and the South Asian region. It is a common sight to see trucks trundling down highways, flaunting elaborate floral patterns and calligraphy. These decorated trucks came to be known as 'jingle' trucks when they serviced American troops and contractors in Afghanistan. However, the term may also date back to the British colonial era. This term was coined due to the jingling sound of the chains hanging from the bumpers of trucks. 
These trucks are decorated by their owners and may cost as much as a thousand dollars. It is common for the trucks to exhibit elements that remind the drivers of home since they may be away from home for months at a time. Trucks are ornamented with paintings, most commonly, scenic pictures of the Northern Areas of Pakistan. Calligraphy is essential and gives the art its unique flavor. Intricate mirror work decorates almost all surfaces and the doors are often wood carved. The depictions of historical scenes are also common and poetry, often humorous, is important. As if all this were not enough, chains and pendants are hung from the front and back bumpers. All this outfitting is done at a coaching workshop.
One of the most prominent Truck Artists of Pakistan is Haider Ali, who was trained in this craft by his father. His claim to fame is painting a truck in the Smithsonian Folk Life Festival in 2002.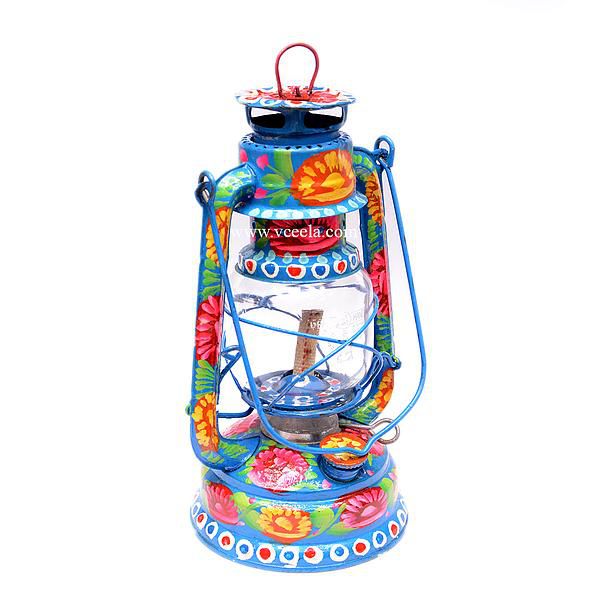 Truck Art Lantern
Karachi is the main center of Truck Art in Pakistan, although Rawalpindi, Swat, Peshawar, Quetta, and Lahore are also renowned for this. In Baluchistan and Peshawar, trucks are decorated using wood carvings, whereas, plastic work is more common in Rawalpindi and Islamabad. Sindhi Truck Art has its own distinctive style of camel bone work on a stark red background. The slogans and poetry which almost always adorns the trucks changes with the socio-political atmosphere of the region. This art is referred to as Phool Patti in Urdu.
The popularity of Truck Art can be gauged from the fact that these designs have gone beyond the realm of trucks and extended to other items. Cars have begun to be embellished with Truck Art. For example, in 2009, the Foxy Shehzadi, a 1974 VW Beatle, was ornamented with this traditional craft. It is known for traveling from Pakistan to France in twenty-five days. In Mumbai, taxies decorated in this manner have begun to run on the roads. Fashion designers have also been increasingly inspired by this art. In 2015, Truck Art featured heavily in the campaign displays of the Italian brand, Dolce & Gabbana. Women's Eastern and Western clothing also incorporate these designs.