Pakistan is an old world civilization with a rich history of rich art and culture. Mangos, citruses, Indus dolphins, the incense of Sufi shrine, spices, and gems — it encompasses so many contradictory things within it that you will have to visit it to experience it in its true complexity and beauty.
Nothing in Pakistan is subtle: There is intensity in every corner of every village where every mural is embellished — From architecture, so ancient, yet so astonishingly elaborate that even the most modern visitor can't help but look in awe — — to the stunning jewelry its women wear.
Craftsmanship in Pakistan comes has sprung out of artisans who weave myths, legends, and Sufi stories into different forms of crafts indigenous to every area. There are many different worlds contained within the geographical boundaries of Pakistan as various civilizations impacted it at different times in its history.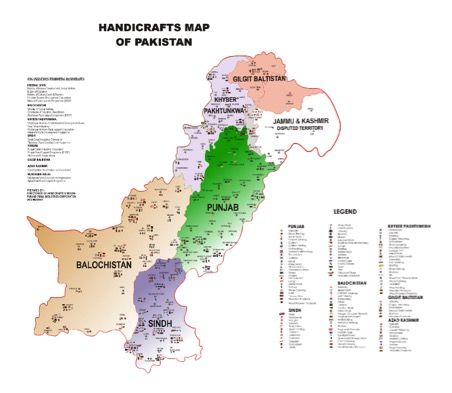 Handicrafts Map of Pakistan
The world of its craftspeople, with their handmade goods and textiles, spans millennia and encompasses influences of many civilizations - Indus, Persian, and Turkic within it.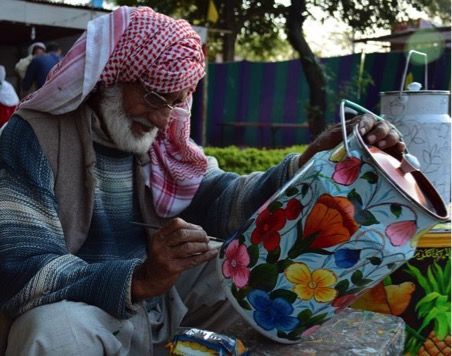 An artisan painting colorful design on a metal pot
For artisans of Pakistan, wood, metal, marble, clothes, clay was canvasses for their creativity  —  happiness had to be carved out of chaos and often creativity was the only outlet so the brave artisans of Pakistan's deserts and mountains painted tiles, carved marble, made cupboards from wood and molded brass into toys for children and hit copper into utensils for their daughter's wedding.
In some areas, the village itself is linked with craft whether its wood carving style or rugs or Embroidery or metalwork or blue pottery that has gone on for generations — taught from father to son or mother to daughter.
But we also want to document and preserve this cultural heritage, so in the coming months, we would be writing about the unique crafts of Pakistan and the geographical areas which gave rise to these crafts.
We created Vceela with the aim to provide access to the international market to Pakistani artisans so Pakistani handicrafts crafts can be preserved from the onslaught of industrialization and low wages — and introduced in the international market.
We aim to create demand for Pakistani handicrafts so their supply and the skills craftsmen who produce them can be protected.
But we are also committed to preserving Pakistan's cultural heritage from being lost, to this effect we would also be sharing with you the artisan testimonials and craft videos so you can see how much hard work goes into creating these artworks. This is part of our mission to protect and promote Pakistani crafts.
In the coming months, we will be traveling all over Pakistan and documenting the woes and trails of these artisans who create such wondrous creations.
Ceramics and pottery have their roots in Gandhara civilization, even the ruins of Gandhara have yielded toys made with clay and this tradition has stayed alive in the villages of southern Punjab and Sindh where you would find artisans creating ceramics and then painting them over with Niqashi or Kashi Kari.
A ceramic wall plate with artistic drawing

Brass and Copper have been worked in the northern Pakistan lands ever since the Mughals invaded and were amazed by the skill of local artisans. Extremely intricate carving on brass and metal is done in Swat and old bazaars of Peshawar to create wondrous creations which can momentarily stun you with their craftsmanship.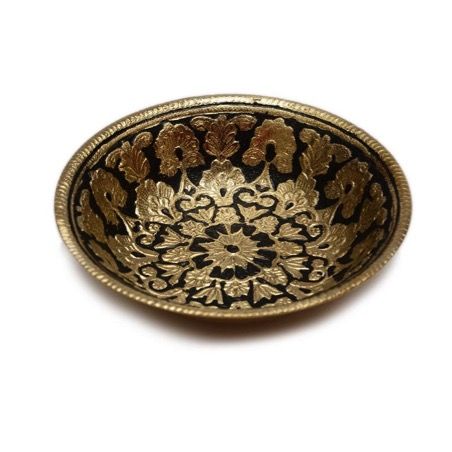 A brass plate with beautifully engraved design
Wood Carving was inspired by the elaborate Mughal architecture; brave artisans working in small cities are still creating furniture pieces fit for a king in places like Chiniot and Sargodha.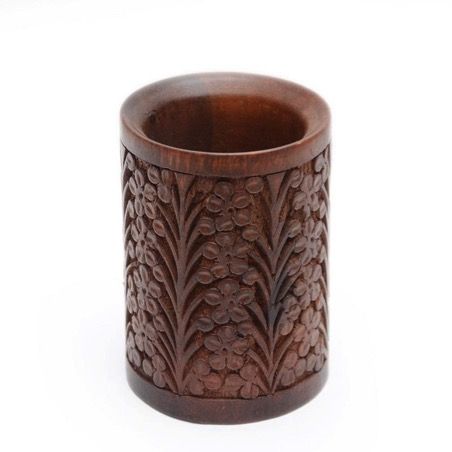 A wooden pen holder with engraved artistic design
The Marble carvings done in northern Pakistan can leave Michelangelo stunned. Virtuoso craftsmen work with porcelain marble pieces to create decorative items, utensils, and art which leaves you breathless with its purity and perfection.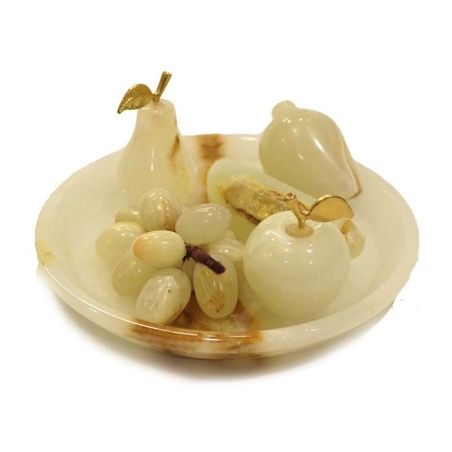 A masterpiece of marble carving
Khussa is a collage of all the syncretic influences of Pakistani culture, made from leather, it is embroidered with traditional motifs and mirror work to create an utterly unique footwear.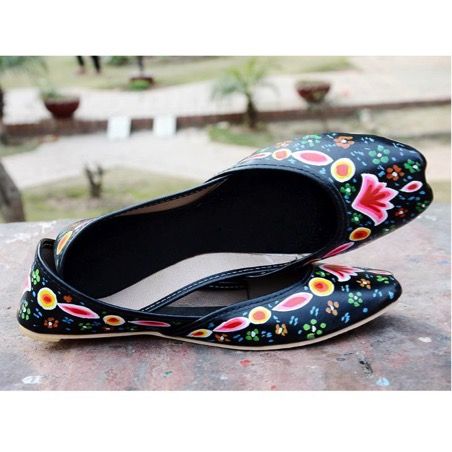 A hand crafted khussa with colorful design
Ajrak was being dyed in Mohenjodaro in Indigo colors at the banks of Sindh centuries ago. Made with natural dyes, it has the entire Indus civilization encoded within its motifs. The designs of the block prints used have been the same from centuries and taken from the walls of Chaukhandi and those long gone by Indus civilizations. On the banks of Indus, artisans still dye their dreams indigo.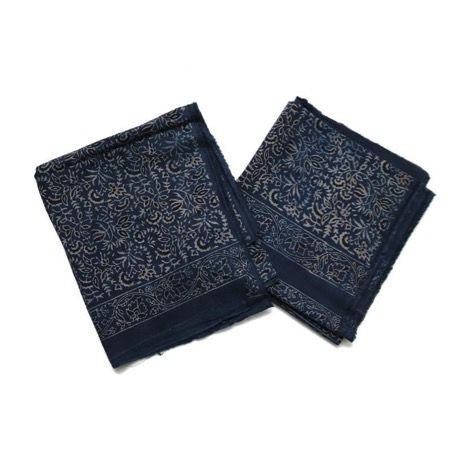 Handmade block-printed Ajrak is one of traditional crafts of Sindh
Blue pottery is a microcosm of the Sufi mausoleums dotting Multan and Sindh. It's blue color inspired by the heavenly color preferred by Sufi masters. It's motifs taken from Persian and Turkic calligraphy and miniatures.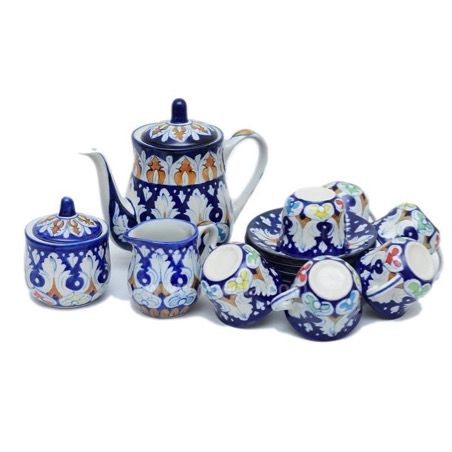 Blue pottery is an exclusive specialty of Multan, Pakistan
Camel lamps are a small piece of desert crafted from dried camel skin in deserts of Cholistan and Multan and then painted over to create a unique craft not found anywhere else in the world. Light pierces through the porous camel skin to create shadows of the desert night.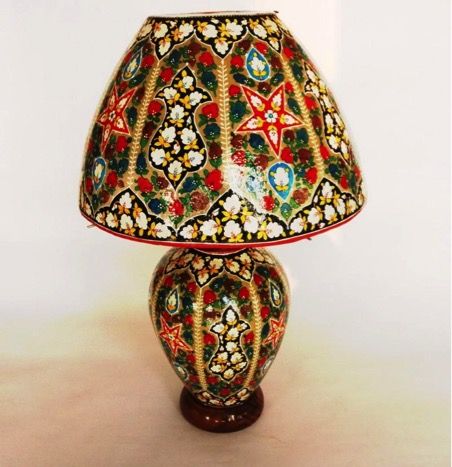 A light lamp made of polished, painted camel skin
Gems have been worked over in the Himalayan mountains for centuries. Excavated from the mountains, these emeralds, rubies, and turquoise were often set in silver and sometimes in gold to create intricate jewelry.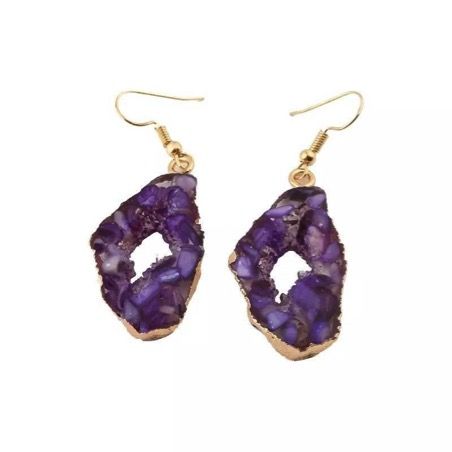 A pair of earrings made of gems
Embroidery has been the staple of women in Pakistan, it is often the only canvas available to a woman to exhibit her creativity and imagination and they have utilized it to create unique styles specific to each region. This was how they expressed their individuality.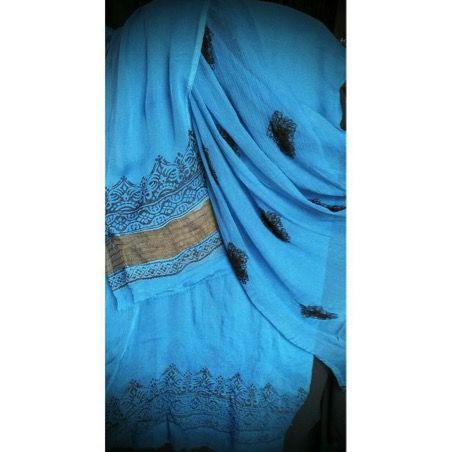 Embroidery work on a cloth
Rilli was a quilt born out of poverty and improvised by nomadic women who couldn't afford new clothes, so inside their huts, while shut from the world, they cut clothes and constructed new worlds in patchwork quilts which are a testament to their resilience and their skill. They gave these patchwork quilts to each other as a gift and some were kept for over decades as a memento to be given to daughters.
It takes a village of Kashmiri women to create one pashmina, so intricate is the handiwork done on gossamer-thin threads of pure lamb wool. The motifs are inspired by the flowers adorning the plains of the valley and inspired its artisans to create autumn hues and spring blossoms on a dyed canvas of pashmina. A fully worked pashmina is a sight to behold and as intricate as a renaissance painting.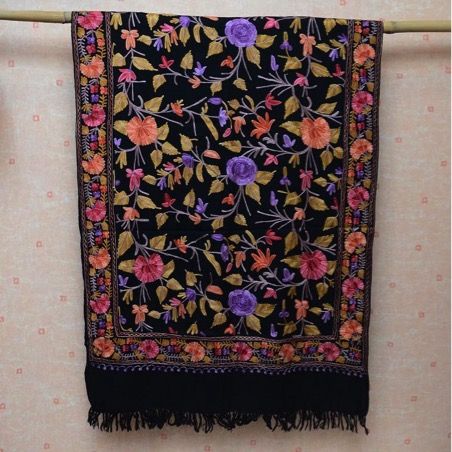 Kashmiri handmade pashmina is quite popular among women in Pakistan
Carpets: In the mountains of Balochistan and glacial hills of Hunza, tribes worked on their carpets centuries ago; transforming threads into motif so all the cultures which came into their lands. It's a communal craft which sustains an entire community. Some carpets are weaved for years: Translating Persian art and Ottoman miniature painting into silk rugs.