Rilli quilts are traditional symbols of the regions in which they are made. They depict stories of immense creativity, and the love and reverence which the locals hold for beautiful colors and designs. Examining a Rilli gives information about the lives of the communities that made them. It is possible to discern what goes on in the hearts and minds of the artisans, which are primarily women. The various colors displayed by Rillis are often associated with specific communities, so it is possible to figure out the geographic origins of a particular Rilli. Such handmade quilts made for weddings are always more decorated and ornamented, sporting tassels, beads and sequins. This art has had universal appeal and is capable of touching the senses of all.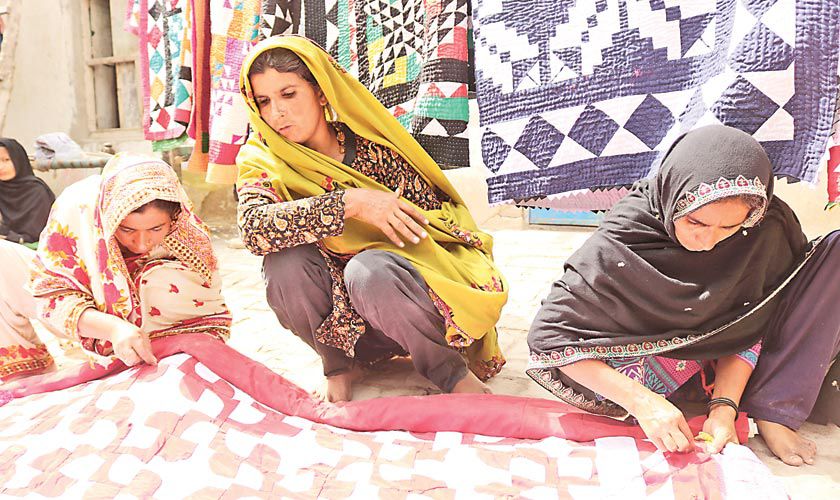 Sukkur, Sindh: A group of female artisans making a Rilli.
The rilli is an entrancing kaleidoscope of colors, patterns and energy. They are produced in Sindh, Baluchistan, Southern Punjab, and in the Indian states of Rajasthan and Gujarat on the border of Sindh. The term rilli is derived from the local word Ralanna, which means to mix or combine. It is created primarily by women of rural villages, nomadic tribes and settled towns.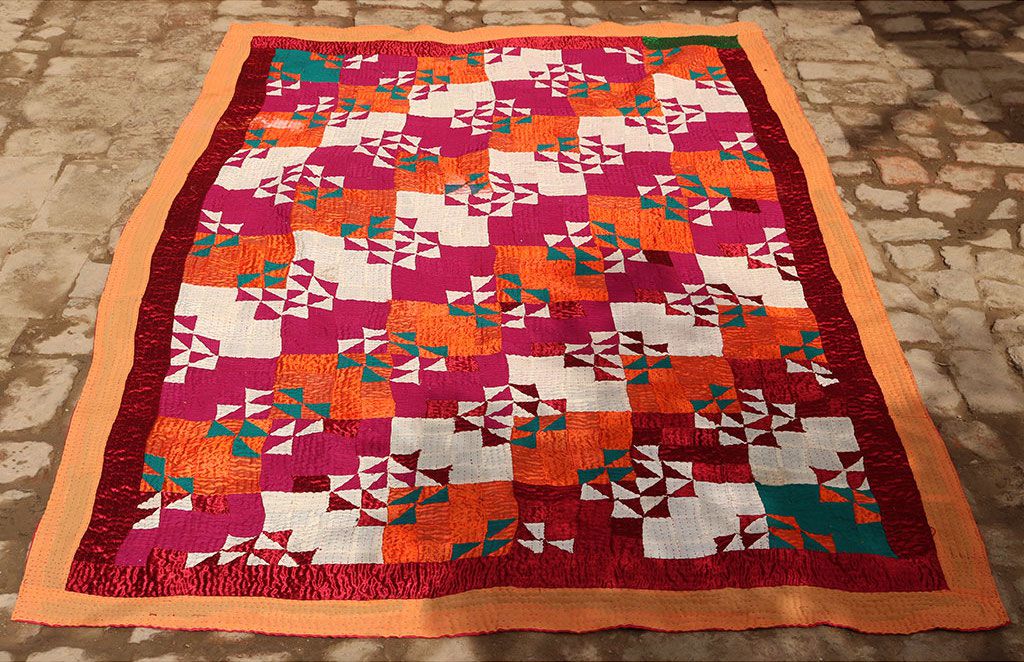 A finished, colorful Rilli. It takes a month or so to make one Rilli with such a detailed needlework
It is made from hand dyed pieces of cotton and is seven by four or five feet. The most commonly used colors are red, white, black, yellow, orange, green and dark blues and purples. Women make the bottoms out of old pieces of tie dye Ajrak, whereas an old shawl is sufficient for the back.  Around three to five layers of worn fabric or cotton fibers are placed between the top and bottom layers. The filling is secured to the backing using long stitches which are later removed. The piecing is often done by one woman, while the stitching takes place on a family or community basis.
This is the ideal time for these women to socialise and share stories and burdens. In the final stage, the three layers are attached together using thick colored thread stitched in straight, parallel lines. No quilting frame is used in this step and the task is accomplished by women sitting opposite each other with the quilt spread out in between on a reed mat.
There are three basic varieties of Rilli quilts made in these parts. Patchwork is created using squares and triangles of cloth which are then stitched together. Appliqué consists of intricate, cut out patterns of various shapes. Lastly, embroidered Rillis feature embroidered patterns on fabric and sport mirrors, tassels and shells.